Wedding and a Bridezilla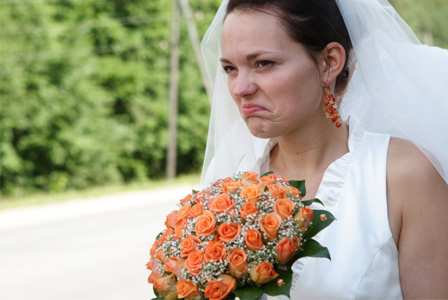 Bridezillas can be one of the most difficult obstacles for a person to overcome when planning a wedding. Here is a person that is under such an intense level of stress that they start taking it out on their friends and family members. If you're going to survive the next few months with this woman, you're going to have to follow a few of the tips we've lined up for you below:
1.) Realize who you're dealing with. Everyone gets stressed about something, and chances are you know the bride so well that you know what she's stressing over. So help her calm some of her stress. If she thinks there's absolutely no way she's going to be able to stuff 368 envelopes full of wedding invitations, get on the phone and get a small collection of people over at her house to do the job.
2.) Really give everything a legitimate try. Even if you think it's crazy, at least try. Of course there are just some things you won't be able to do, like travel to Rome for the wedding dress fittings. In these cases give a strict, non-negotiable "No". For other things though, go ahead and try and indulge her. Baking 400 cookies for the rehearsal dinner sounds pretty impossible, so bake as many as you can and then stop by the store the next day to make up the difference. She'll see how much of an effort you put in as well as possibly realize that her original demands were pretty impossible to begin with.
3.) Treat her like a princess. Sound tough? Of course it is, but she's planning her wedding day. In her head, nothing is more important than this wedding, so treating her like the important person she feels she is right now will actually help you both to get on the same page. Don't worry, as soon as she's married the urgency will go away and everyone will be more relaxed.
4.) Seek out close friends. If you do have some issues going on in your own life, contact your friends and vent with them instead. You'll be able to clear your head all while they're intently listening and not worrying about what exactly you are doing.
5.) Stay positive. It's perfectly natural to want to talk about the bride behind her back. If she's bossing you around like crazy, of course you're going to be bitter. However, you have to remember that she is not herself right now. All of the crazy demands and even insults that she hurls your way are not what her personality is made of. You'll have your friend back as soon as the wedding is over, so keep the negative talk to yourself for just a few more months, at least.
Lily's Bridal and Prom Boutique offering Wedding Gowns and Prom Dresses up to size 30. Lily's Bridal offers the largest selection of exclusive designer Wedding Gowns and Prom Dresses in Maryland. Curvy and Plus Size Brides you must come see the best selection of Wedding Dresses in Maryland.